Introduction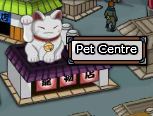 The Pet Villa (ペトの部屋; literally meaning "Room of Petoskey" or ペットの部屋 meaning "Pet Room") is an area of the Pet Centre which were both introduced on February 8, 2012 along with the Pets & Love event. The Pet Villa allows players to level up deactivated pets by paying with gold and waiting by a training time. Players cannot train a pet that is at the maximum level of the player's rank or if they are active. There are 4 slots where pets can be placed to train. Premium users start off with all the slots unlocked.
Free users start off with only one slot unlocked. As a free user, to unlock the other three slots, the user can exchange 20 Friendship Kunai, purchase a Ninja Emblem, or pay 400 Tokens.
(extracted from Ninja Saga Wiki)
Leveling up a pet
1)
Manual
:
While completing a mission, the pet will only 20% XP that the player gain from missions or defeating enemies, bosses etc.
2)
Auto
:
The alternate way to level up a pet which is by training the pet in the Pet Villa with gold.
Requirements
:-
Reminder
_____________________________________________________________________________________